What you are looking at is a Collector's Edition Hello Kitty Guitar (made by Fernandes) with a built-in amplifier. A matching carrying case, strap and picks are also included. This is an authorized Sanrio product made exclusively in Japan solely for the Japanese market.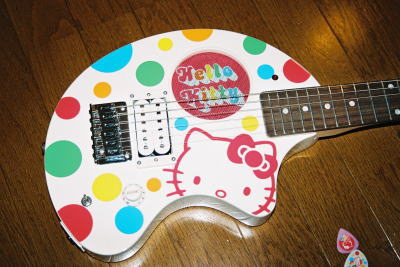 It is not available in any retail stores outside of Japan. As such, it has become a true "unicorn" of the Hello Kitty collector world.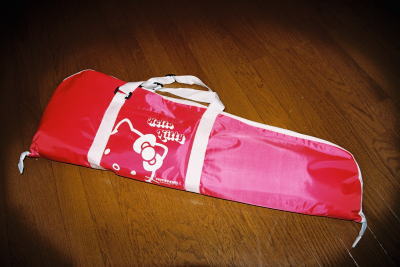 It is a very playable instrument with excellent sound quality. The fingerboard is made of maple and the frets are rosewood. It is currently in the private collection of several celebrity rockers who know their instruments well.
I am the only online seller of this guitar in the world. Even in Japan these guitars are difficult to find. If you have any questions at all, please do not hesitate to drop me an email--I am happy to help. This guitar may also be shipped as a gift at no additional charge.
Specifications:

Bolt-On Body
Maple Neck
Rosewood Fingerboard
22 Frets
Custom Fernandes Humbucker Pickups
Built In F/X Processor
Self-Contained Amplifier with a Speaker
Headphone Jack
Includes a Soft Case
Priced at $400. Secure, insured, and trackable express shipping to anywhere in the world is an additional $100. SO, for $500 even, this guitar will arrive on your doorstep within a week! I can accept payment by Paypal (www.paypal.com), International Postal Money Orders or well-concealed cash (at buyer's own risk). I prefer payment through Western Union Money Orders, which can be purchased with your credit card at www.bidpay.com. Please feel free to check out my perfect Ebay feedback at www.ebay.com -- my seller name is tokyokaren. You are also welcome to buy this guitar through me at Ebay, just ask!

A must-have addition for the rare Hello Kitty item collector. Please do not hesitate to contact me for any further information, I am happy to help. ces@gol.com!